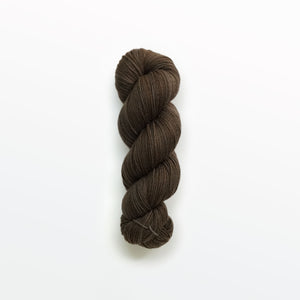 Colorway: Umber
Dye material: Black Walnut
This 3-ply Merino/Rambouillet Fingering is bouncy and elastic yet amazingly soft. And because it's non-superwash, there's a high fiber memory retention that exhibits crisp stitch definition.
• Wraps per inch - 16
• Merino/Rambouillet
• Length - 450yd / 100g 

Wool Facts
• Grown and milled in the U.S.
• Sheep are certified under the RWS (Responsible Wool Standard)
• Non-Superwash, free of chlorinated compounds and polyamides
• 20-21 Microns means it's soft and perfect for wearing next-to-skin

Project Recommendations: Socks, baby clothes, shawls, wraps, hats, and colorwork

Although the utmost care is taken to ensure the colors are consistent from batch to batch, no two are the same. Please purchase enough yarn at once to complete your entire project—alternate skeins to avoid color pooling. 
Images have been extensively color-corrected but may still vary between monitors.

Care Instructions
Handwash in cold water with wool wash—dry flat.